David Freeman · (310) 394-0361 · freeman@dfreeman.com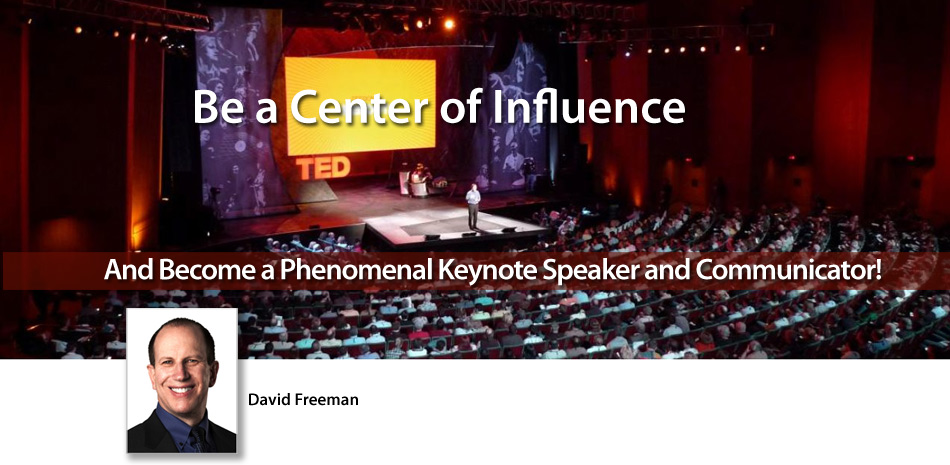 The First Rule Is Always: Be Absolutely Unforgettable
In your important presentations and speeches, you either grab the audience and sweep the them along an incredible journey that surprises, delights, and moves them ––
–– or by tomorrow whatever you said has been long forgotten.
That's why most of us have a hard time remembering even a handful of talks we've ever heard.
When We Say this Class Will Make You a Center of Influence, We Mean…
At a conference, you'll give the one talk that everyone raves about.
In a sales context, it means that without being salesy, your message will attract and move people at such a deep level that your competitors envy your conversion rate. They'll wonder, in vain, what the source of your magic is.
Evoke Subconscious Emotions
Watch any of the top-rated TED talks, or even revisit Lincoln's two-minute Gettysburg Address.
The top speakers in the world use a vast number of techniques, aimed completely at the audiences' subconscious, to move them through complex emotional experiences in a very short period of time.
In this class, you'll learn 48 techniques for creating this kind of lasting impact.
(By the way, they're entirely unrelated to Neuro-Linguistic Programming.)
Secrets Derived from the Masters of Hollywood
Some of the techniques you'll learn come from the top writers and directors of Hollywood. They use secret techniques for creating stories that deeply hook an audience and keep them spellbound.
Use them on stage and audiences will be riveted. Use them in a sales meeting and potential clients will be magnetized by your message.
Superstar Stage Presence
Famous rock stars, actors, and sports superstars radiate an expansive stage presence.
What these stars do unconsciously, you will learn to do on a conscious level with special techniques that you'll practice in class.
Develop an easy, powerful stage presence. Give speeches and presentations that rock people's worlds, and that people still talk about months later.
Launch yourself to the rarified heights attained only by undisputed thought leaders and powerful centers of influence.
---
Next Dates
To be announced soon
Location
The Bernard Room in the historic and sumptuous Millennium Biltmore Hotel in downtown
Los Angeles

For the hotel address, map, and parking instructions, click here.
Staying in the hotel, and/or flying in from out of town? Click here.
Class contact
David Freeman
(310) 394-0361
freeman@dfreeman.com
Price
$4997 if paying in full. Or:
A first installment of $2697, with a second installment of the same amount to be paid any time before the event, as long there is still space available.  (Just contact us and ask.)
Price includes lunch on both Saturday and Sunday.
If paying by credit card, please click on the button below. Instructions for paying by check are below the button.

If paying by money order or check, please make payable to: David Freeman and send it to:
David Freeman
2118 Wilshire Blvd. – #274
Santa Monica, CA 90403
Checks must be received two weeks before the event so as to have time to clear.
Neither your credit card information nor your contact information will ever be shared.
For our full privacy policy and terms and conditions, click here.