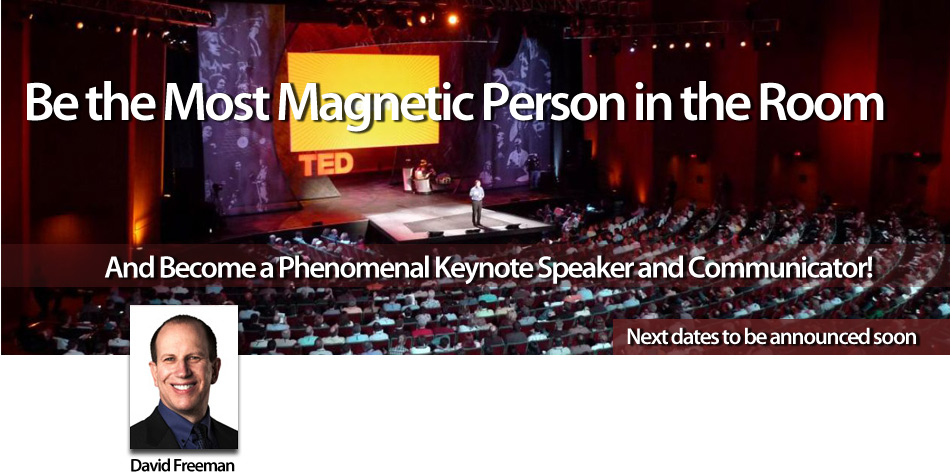 The Importance of Superstar Stage Presence – Anywhere, Any Time
Whether you're a speaker, a consultant, an industry expert, or selling your products or services, you need to compel more attention than your competitors.
Even more basic than selling and speaking strategies is developing a natural ability to radiate a superstar presence, the way famous rock stars, actors and sports superstars do without effort.
No matter where you are…on any stage, in any room, on a plane, or just walking in a restaurant, you'll be the most magnetic and influential person there.
The Techniques are Secret
The techniques for creating this type of impact are secret, in that 100% of them operate below the awareness level of an audience or client. But what these stars do unconsciously, you will learn to do on a conscious level.
More Hidden Techniques – From Hollywood Masters
Equally hidden are powerful Hollywood methods for creating stories that deeply hook an audience or client and keep them spellbound.
In two days you'll learn 48 of these secret techniques for changing the mindset of an audience, including dramatically increasing sales.
---
Download a pdf with an overview of the event here
Download a pdf with David's bio here
Next Dates
To be announced soon
Location
The Bernard Room in the historic and sumptuous Millennium Biltmore Hotel in downtown
Los Angeles

For the hotel address, map, and parking instructions, click here.
Staying in the hotel, and/or flying in from out of town? Click here.
Class contact
David Freeman
(310) 394-0361
freeman@dfreeman.com
Price
$4997 if paying in full. Or:
A first installment of $2697, with a second installment of the same amount to be paid any time before the event, as long there is still space available.  (Just contact us and ask.)
Price includes lunch on both Saturday and Sunday.
If paying by credit card, please click on the button below. Instructions for paying by check are below the button.

If paying by money order or check, please make payable to: David Freeman and send it to:
David Freeman
2118 Wilshire Blvd. – #274
Santa Monica, CA 90403
Checks must be received two weeks before the event so as to have time to clear.
Neither your credit card information nor your contact information will ever be shared.
For our full privacy policy and terms and conditions, click here.